May 4 marked the much anticipated final results of the Top Chef's competition during the Mediterranean Charter Yacht Show (MEDYS) which wrapped up on May 5.  I was on-site to enjoy and sample many of the offerings during the much-anticipated Top Chef's competition.
The Judging panel featured two of Greece's most esteemed and distinguished chefs including
Chef Angelos Lantos of Spondi restaurant has over 20 years of experience as well as 2 Michelin stars. The second judge was Chef Thanos Stasinos, who has worked in executive roles in some of Greece and Europe's leading restaurants which include Nikkei Athens, Pacific in Monte Carlo, the Ritz Carlton in Valencia, and many more. He provided an authentic and expert perspective, raising the stakes and criteria for all participants.
Category A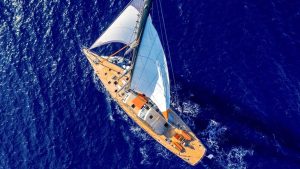 The Chefs' Competition, with the theme of 'Decadent Vegan', is a coveted and competitive part of the yacht show and this year's winner was Chef Michal Maymon from 100′ Sail Yacht AFAET winning the first prize in Category A.
Michal has worked on board yachts in the Caribbean, East & West Med, Greece, and Israel. She cooks different cuisines such as kosher, Mediterranean, Asian, French, Caribbean, vegetarian, vegan, and gluten-free. Along with her impressive professional experience, she has been dedicated to utilizing her many skills to meet her guests' highest expectations. Chef Michal is Israeli and speaks English, French, and Hebrew. 
About the Yacht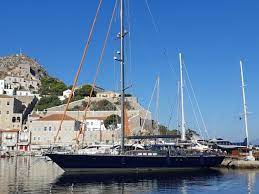 Built in 1991 by Dutch yard Jongert, AFAET has been completely transformed with a major interior, exterior, and mechanical renovation in 2019 leaving her in absolutely immaculate condition. She has 4 Cabins accommodating 9 guests, and 4 crew.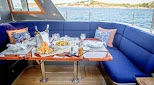 Featuring air-conditioning and WiFi throughout, AFAET can welcome up to nine guests. Her four en suite cabins feature modern styling, ensuring they are a clean and classy retreat at the end of a day on the warm Greek waters. There are two doubles and two twins, with one twin featuring a Pullman for added flexibility.
There is a multitude of onboard spaces to enjoy, with two distinct living areas. The main salon delivers a bright, light-filled space with areas for relaxation and dining. The second keyspace is the semi-enclosed deck salon, which is able to be enclosed so as to be enjoyed in all conditions, delivering protection from the sun and spray. This is a popular spot for relaxing and enjoying a fresh al fresco feast prepared by AFAET'S chef at the large dining table for 12.

Category A Platinum


As for Category A Platinum, first place in the Chefs' Competition went to Chef Savvas Lichanidis from 80′ Sail  Catamaran GENNY. Both of the winner's dishes highlighted the exceptional quality of cooking and culinary skill present on board.
About the Chef:
Chef Savvas is Greek, was born in 1989, and is one of the most promising chefs in Greece. He completed his training in culinary art at the professional school OAED also holds a degree in Fast Pace cooking and has completed seminars in Japanese and molecular cuisine. Chef Savvas started his internships in 2005 at the prestigious King George Palace Hotel and he worked his way up over the years. He participated in the Master Chef in Greece and took 4th place in 2018.  Savvas enjoys creating Fusion cuisine incorporating Greek local ingredients and making enticing dishes. Chef Savvas speaks Greek, English, and Slavic languages.
About the Yacht: 2021 Sunreef 80′ Sail catamaran has 5 spacious cabins 2 Master Cabins w/walk-in closet, private

bathroom provided w/ showers. 3 VIP Cabins has Queen size bed, a private bathroom w/ shower and the crew of 6 provides the utmost in luxury cruising the Greek Islands. Fuel consumption is minimal (compared to the traditional motor yachts). The crew of 6 are Italian and Greek.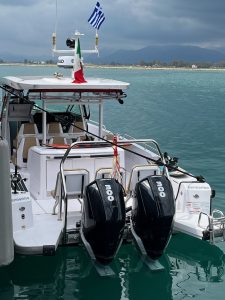 Another great feature for guests of all ages is the 39′ Sun Marine tender for up to ten guests. Great for exploring or water sports, this is a great option once at anchor or in port for getting around.
For more information on the Culinary Competition from the MEDYS.


INSTAGRAM:  https://www.instagram.com/carolkentyachtcharters/
FACEBOOK :  https://www.facebook.com/CarolKentYachtCharters/
TWITTER: https://twitter.com/ckyachtcharters
YOUTUBE CHANNEL: https://www.youtube.com/c/CarolKentYachtChartersMarblehead/videos


It's smarter to charter.
Feel free to browse for your dream yacht charter here.
---
You can reach out to us on our Contact Us page.
Already have dates in mind? Let's make a plan.
Email us vacation@carolkent.com
Calling us works, too! +1 781 631 1800