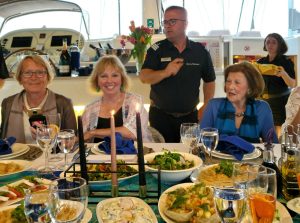 The Turkey Yacht Charter Show was an ideal opportunity to inspect yachts and reaffirm partnerships for the benefit of our clients, and to get acquainted with many changes in this picturesque, exotic cruising region.
Returning to Gocek 
Host city Gocek, a small yachting port town in Turkey's Fethiye district,  is very close to Marmaris, which also a great port of departure for cruising these pristine waters on a quintessential "Blue Voyage".   This private yachting event, one of the East Mediterranean's leading yacht shows, saw impressive coordination of yachts and crews, treating attendees like royalty.  
Yachts and Itineraries 
The Gulet (pronounced GOO-lets), a two or three-masted motor/sailer, is the predominant vessel style in Turkey, prized for its stability.  Accompanied at the show by some modern motor yachts, sailing yachts and catamarans, the gulet offers a unique cultural immersion experience. 
I rediscovered the pristine waters, many hiking trails leading to lost cities, pine-scented shores, and knowing hundreds of stunning Aegean islands are a short sail away.  Inspecting, lunching, and dining on board many of the 80 yachts was an eye-opener on the food, English-speaking, and pristine condition of the yachts on offer.   
More about the Show 
 Organized by the Turkish Yacht Brokers Association (TYBA), the show site is an easy flight from Istanbul to the Dalaman airport.  We were treated to many networking and cultural education sessions. I met old friends and colleagues while reacquainting my love of Turkey and its people.
I had the opportunity to sail on one of the three Serenity gulets for 3 nights out of Gocek.  SERENITY 70 is ideal for a family of four with young adults having their own cabins or three couples.  My broker colleagues and I sailed in flotilla style with SERENITY 86 and 102′ GETAWAY.
The ideal itinerary is beginning in either Bodrum, Marmaris, or Gocek.  Here was our itinerary for 4 days cruising with our professional crew:  Cruising out of Gocek 
This show had a strong focus on social events designed to enable networking with captains and crew individually. This industry-only TYBA Yacht Charter Show offered a chance to discover more about the rich cruising grounds of Turkey and the Turkish fleet enabling me to make the very best selection of yachts, captains, crew, and itineraries for our clients. 

Gulets, in detail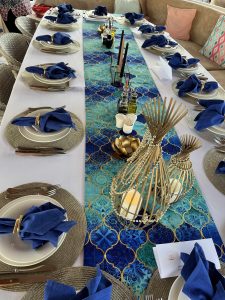 Not only are there a number of superyachts and luxury sailing vessels at the show, but the iconic Turkish Gulet, which is built in nearby Bodrum and often used in the charter yacht industry, adds variety, choice, color, and flavor to the show. The picturesque Gulet is a traditional two-masted or three-masted sailing yacht ideal for coastal cruising around the eastern Mediterranean. Today, this type of vessel, varying in size from 14 to 35 meters, is known for its comfort under sail and ease of travel into and around the lesser-known bays and coastal inlets that characterize the spectacular Turkish coast and islands.
Just a few of the high points to visiting Turkey, for consideration, including a visit to Izmir (not to be missed ~ the archaeological sites of Ephesus) or Bodrum (home to the classic boatbuilding of the traditional Gulet) or Dalaman (closet to the best cruising areas of Fethiye and Marmaris and the famous Blue Voyage route).
Istanbul is where East meets West and three days would allow ample time to discover this beautiful city that combines the old and new. Tour the Blue Mosque, Grand Bazaar, Aya Sofya, cruise the Bosphorus, walk across the Galata Bridge between Europe and Asia for a magical experience, and do not miss a traditional Turkish Bath at the oldest Hamam where men and women are bathed by experts in separate areas.
Cappadocia (pronounced: Cappa-DoKYA) 3-hour flight from Bodrum; this is where hot air ballooning is "the best and most efficient" way to see this wonder of nature. Discover volcanic eruptions, stay in a cave hotel, and hike this vast expanse of moon-like formations while coming upon underground cities.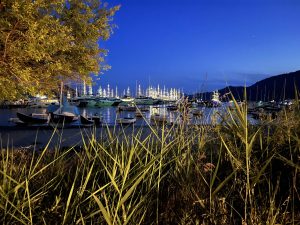 Plan now for 2022/2023 private yacht charters and Carol Kent will customize an amazing Turkish yachting itinerary for you to review and consider. Follow us for an update from Carol as she heads for an exciting familiarization tour on board a Gulet this coming week before returning to the states.  Today, May 10, Carol is touring the Dalyan River. 

Turkey has so much to offer! Don't miss out.

INSTAGRAM:  https://www.instagram.com/carolkentyachtcharters/
FACEBOOK :  https://www.facebook.com/CarolKentYachtCharters/
TWITTER: https://twitter.com/ckyachtcharters
YOU TUBE CHANNEL: https://www.youtube.com/c/CarolKentYachtChartersMarblehead/videos
It's smarter to charter.
Feel free to browse for your dream yacht charter here.
---
You can reach out to us on our Contact Us page.
Already have dates in mind? Let's make a plan.
Email us vacation@carolkent.com
Calling us works, too! +1 781 631 1800