Newport, RI is where it's all happening.
The setting of America's Gilded Age glory is right here in Newport, RI!  This yachting town is the best  place to embark for a charter vacation to Block Island, Martha's Vineyard and Nantucket. From June 20-23, I will be vising Newport to inspect an array of yachts that are available for charter, from classic sailing yachts to sleek modern super yachts.   While this is an industry-only event,  you can contact me and I will escort you to New England's finest yachts plying the waters this summer!  
Why We Attend  
This annual yacht charter show is dedicated to leading yacht brokers, as we inspect and vet yachts for our clients.  Located at Safe Harbor Marina, it is the only North American yacht show dedicated to the charter yacht sector.  Boarding your vacation yacht in Newport, the yachting center of America, is one of the very best ways to appreciate this stunning seaside town's Gilded Age glory.  If you'd like a taste of Newport's heyday, check out the video trailer of the HBO series The Gilded Age .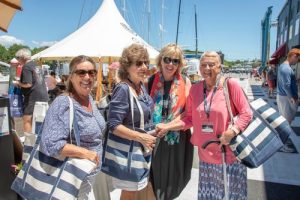 As recently mentioned in a recent Compass Magazine article, this show "offers charter brokers the opportunity to network, share knowledge and most important, inspect the participating yachts. They meet with agents, captains, and crew, review charters that took place over the winter, and talk about charters to come." 
How Our Charter Clients Benefit
You, dear client, will want to know about the experience and service you will have onboard, as well as the food from new chefs and, of course, the latest in water toys and yachting accommodations.  That is why we attend charter yacht shows at all key ports worldwide.  As your advocate, we work to match up the personalities of the crews, the yacht itself, and of course your budget.  With nearly 40 years of experience in the yacht charter business, I and my team have amassed a wealth of this inside information. 
Newport by Yacht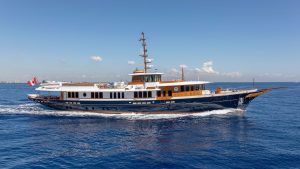 Anyone who loves New England must experience its magic by water, coming into towns via the channel markers or under the bridges, stepping off into New England's seafaring history.  Let me also mention the celestial wonders you will see as the salt-air sun rises and sets, the moon glows, and the stars march across the night sky.  There is no better way to see and appreciate our beautiful region of the world.
Need help with your itinerary? In attending the Newport show, we get a firsthand experience that we can then share with you.  While we are breakfasting at Belle's Cafe and admiring the spectacular fleet of charter yachts, observing the beautifully restored wooden boats on display at the International Yacht Restoration School, or waving to and rooting for the young Optimist sailors rounding the buoys just off the highly regarded Sail Newport facility, we immerse ourselves in the wonders that are available to you, too, as you embark or arrive via yacht in Newport. 
More to do in Newport 
One of the most unique things we do at the start of the show is hop aboard a 12-meter vessel so we can really take in the sites of Newport harbor.  This harbor is home to some of the most beautifully restored and maintained classic yachts ever seen in one place. Passing by these timeless beauties, we coast along passing the site where America's Cup history was made, and where America's Cup guests often gather for dinner, refreshments and swapping stories at Bowen's Wharf. 

As we head down the harbor, we can admire the perfectly landscaped lawn at the New York Yacht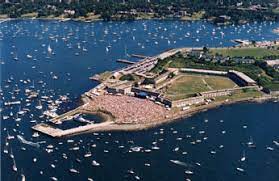 Club's Harbor Court and its welcoming patio where some of the yachting greats young and old might gather for
a regatta or to marvel at the daylong parade of vessels.  Turning towards the outer harbor, we pass Fort Adams, another iconic site from the water where on summer weekends one can listen to the sounds of the Newport Jazz Festival or Newport Folk Festival on a boat with a front-row seat just off the point. 
A highlight for all of us is heading out of Newport past famous homes like Hammersmith Farm, where John F. Kennedy and Jacqueline Kennedy Onassis had their wedding reception with more than twelve hundred guests or rounding the point towards Easton Bay, which provides a spectacular coastal tour of "The Breakers" Mansion on Ochre Point, nestled among rows of splendid mansions built by wealthy people in past centuries as their "summer cottages". 5 FUN THINGS TO DO before or after your yacht vacation 
Five fun things to do while in Newport
Newport Mansions Preservation Society – Private Tours 
Newport Classic Cars – Rental and Private Tours (the 1920s-1960s)
Audrain Auto Museum – One-of-a-kind auto and motorcycles
International Tennis Hall of Fame – 1880 Historic Landmark 
Discover Newport – Things to do for families 

Keep current! Catch up with us online! 
FACEBOOK :  https://www.facebook.com/CarolKentYachtCharters/
TWITTER: https://twitter.com/ckyachtcharters
YOUTUBE CHANNEL: https://www.youtube.com/c/CarolKentYachtChartersMarblehead/videos

INSTAGRAM: https://www.instagram.com/carolkentyachtcharters/



It's smarter to charter.
Start browsing to your dream yacht charter here.
---
You can reach out to us on our Contact Us page.
Already have dates in mind? Let's make a plan.
Email us vacation@carolkent.com
Calling us works, too! +1 781 631 1800