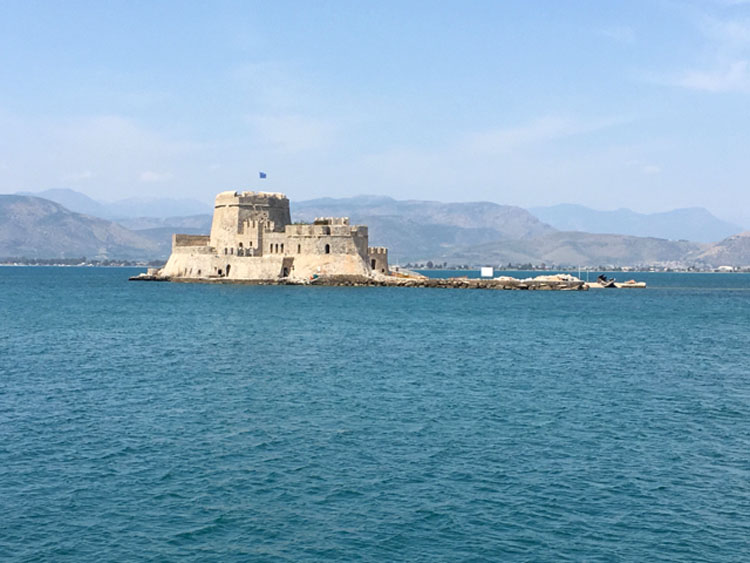 Tandem Sailing the Mythological Peloponnese
Gathering first-hand knowledge is essential for serving you, my dear charterers. So as I was sailing the Peloponnese in Greece, a.k.a, "the mythological Peloponnese", a place of legends and secrets, I knew I had to stay sharp and take detailed notes to pare down and share with you here.
Let me start by saying, the Peloponnese offers something for all your senses!
Co-founder of Fyly Yachting & Travel (since 1989), Barbara Gabriel, invited 9 travel professionals from Europe, the US and the Caribbean for a tandem FAM trip on two of her beautiful crewed catamarans – LUCKY CLOVER and SERENE. A long-time woman business owner who runs a tight fleet of ships, Barbara coordinates our clients' Greek Odyssey experiences from airport, hotel and the adventure of sailing the Greek islands.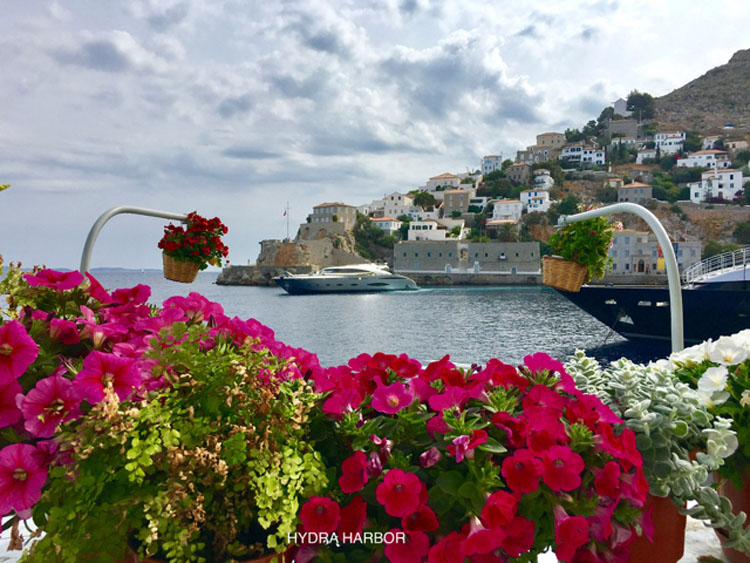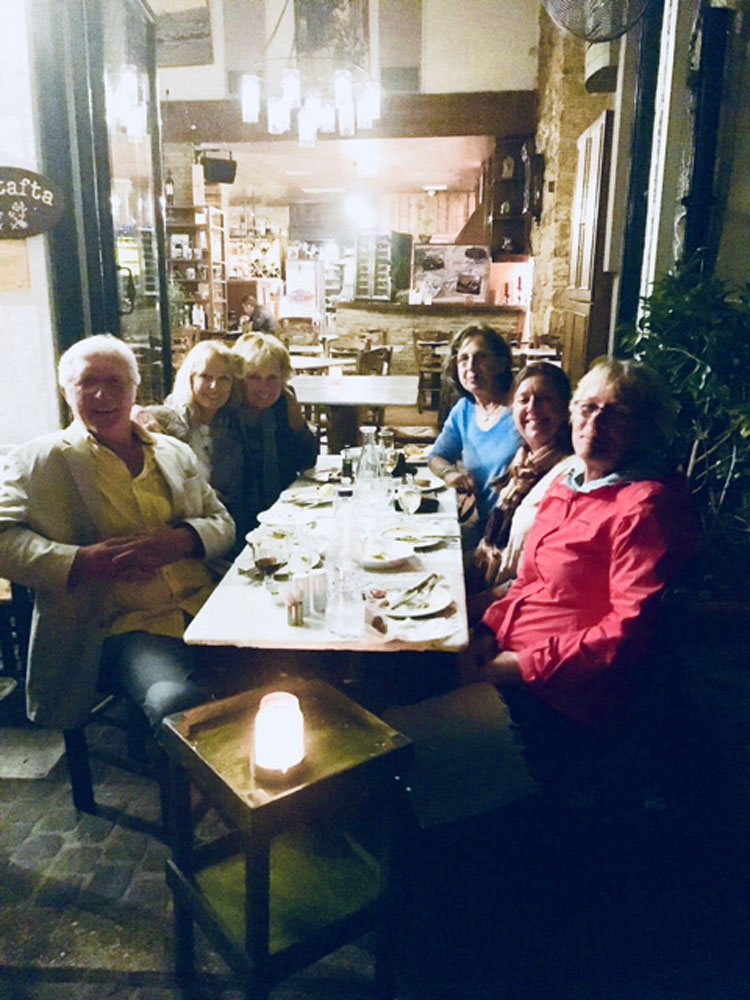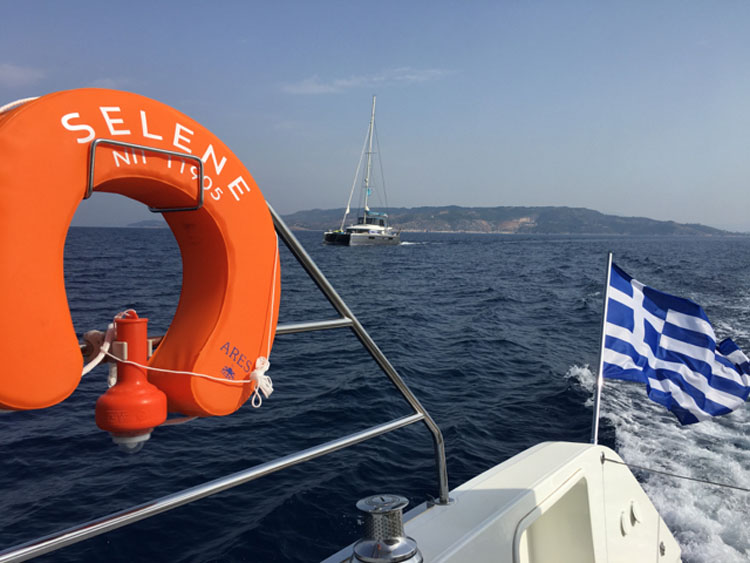 FAM Trip Family
We spent a week sailing in tandem on board 62' SERENE and 52' LUCKY CLOVER, sailing the mythological Peloponnese coastline and islands.
My fellow travel professionals and I shared sea stories good and bad, business ideas, food and drink, and eventually, this FAM trip turned into a "family" of amazing crew and colleagues.
There's nothing like time on a boat to bond with other travelers. A client recently reported that her multi-generational family yacht charter two years ago was a life-changing adventure. And now they're ready to go again!
Starting in Nafplion
Our sailing adventure began in Nafplion, pronounced NÆ-flee-ahn.
This beautiful "medieval style" town on the east side of the Peloponnese in Greece, two hours from Athens, was named Napoli de Romania by the Venetians toward the end of the 15th century.
After my colleagues and I spent 4 days hopping on and off 107 charter yachts, taking notes and photos, meeting captains and crews, we were definitely ready to kick back and relax.
On board our catamaran SERENE, food was prepared by our talented and creative chef George. Though George is a common Greek name, his food stands out in its culinary variety. Morning breakfasts consisted of fresh fish, greens and veggies, or Traditional Greek eggs and feta. We requested that he forsake the moussaka on this voyage because we couldn't possibly absorb all the calories. His attention to our dietary requests were met with gastronomic delight.
What Crewed Yachts Offer
Our experienced crew skillfully back into marinas that would have sent me to anchoring out every night. Besides their extensive knowledge of the area, world class care and service, and general joie de vivre, "stern to" is what these crews do best! 
To our crew,
ευχαριστώ
Efcharistó
Thank you! 
Sailing the Peloponnese Itinerary
Day 1: SPETSES
Our first night on board, we tied up to the main "town" dock on the island of Spetses. Note that dockage in Greece are public and a bargain.
After dinner we wandered the quaint streets that meander past restaurants and shops.
The outstanding Poseidonion Grand Hotel defines the Spetses waterfront. The hotel was built by Sotirios Anargiros, descended from a great 18th century Spetsiot shipping family. He left Greece to make his fortune in tobacco in the US. After returning to his native island, he built this mansion for wealthy Athenians who wanted a luxurious retreat for hunting and fishing.
Anargiros also started buying up farms, vineyards and orchards (45% of the land) where he planted 100,000 pine trees. As you sail into port, the scent of pine fills the air.
On our next morning we fell in love with our traditional Greek breakfast – eggs, Feta, olive oil (because, of course) were all presented.
Kyparissa was our morning stop where we tied up to the town dock. Our dear Stewardess Fedra guided us all with a terrific Yoga on the Beach followed by a Mediterranean plunge into the clear, cool and refreshing waters. Note: the water heats up to a healthy warmth in July and August.
Day 2: MONEMVASIA
Wow! The old medieval walled city has only a dozen folks living here. A causeway connects the old and new. High on the "sacred rock", this was once a colony of more than 5000 with 40 churches. Best to get an early morning start on walking or end of the day for delightful shopping, drinking and eats, since the hot sun is strong. 
In the sixth century A.D, Monemvasia was populated by the inhabitants of Sparta. A delight to walk around and climb to the top, we recommend that you do it early on in the day. The Mediterranean sun really heats up!
During the Middle Ages, the city was renowned across Europe for its special sweet wine variety known as "malvasia". Lucky for everyone, locals still continue the tradition.
We sailed into Gerakka, a seaside settlement that is perfectly-located among the steep mountains of the Peloponnese.  We felt like we were on a pirate ship sailing into this long and protected harbor. 
Day 3: DOKAS OVERNIGHT
We anchored overnight in this quiet anchorage, interrupted by the distant sounds of a few goats and sheep. Our yacht chefs prepared a grilled BBQ on the beach prepared and delivered to our yachts – a feast of lamb and veggies.
Day 4: HYDRA (Ydra) OVERNIGHT
Quintessential Greece with white washed steps and homes…donkey and feet are the main modes of transport. Hydra cats are plentiful and well-fed by the fisherman.
Day 5: POROS OVERNIGHT
Swam in a sweet cove away from everyone on foot. A true find that only your yacht captain will know!
Night spent dockside to explore my favorite winding streets full of Greek hospitality. I was here for Greek Easter 5 years ago and am happy to say that Poros is as lovely as ever.
A must-see is Temple of Aphaia (dating 500 B.C.) overlooking the Greek shipping channel high on a hill in Aegina. Only a 15-minute taxi ride from our port, history comes alive here.
Day 6: ATHENS – Marina KALAMAKI/ALIMOU
As the sun was setting, our masterful crew backed up "stern to" a tight marina filled with over 100 sail and motor yachts, waiting to be chartered.
We had the loveliest evening walking the Plaka, the old historic town of Athens. 
In the photo here, you'll see a train in the foreground which creates a beautiful contrast between modern and ancient.
The night views of the Acropolis lit up as we walked past the Library of Hadrian made a perfect ending to our beautiful sailing trip. 
I hope that you're inspired by our adventure sailing the Peloponnese. At first, you may think of sailing to the famous Mykonos and Santorini. During the July and August months, these islands get hit with strong winds so its much better to choose September for the Cyclades and Saronic islands. The Peloponnese offers just as much culture, history and scenery with protection from the wind.
What Greece Offers
Greece has the most diverse complex of islands in the Med and Europe, with the longest coastline, crystal-clear blue waters amongst the safest in the world. It is full of history and culture, as the birthplace of Democracy and the Olympic Games, of arts, sciences and sports, a civilization of thousands of years.  Not to mention:  organic fresh food, warm weather and water from May to mid-October, clean air and bargain dockage.
Paradise Found. Friendships Made.
You may think "FAM" means family – of course you would if you were my children. However, in travel jargon, FAM Trip means "familiarization" trip and this one has built long-lasting friendships. This was a "FAMtastic" experience that I'd love to recreate for some adventurous travelers.
Contact us and use our complimentary services to start planning. Whether for a couple, a group, a class, a corporate retreat, a multigenerational family reunion or something we've never heard of before, we can make your dream adventure come true.