ICHIBAN means "number one" in Japanese, and while sailing Sweden's archipelago in the Baltic Sea, we had a #1 crew.
Our sailing adventure began May 8, 2017. If you know New England and realize spring is just around the corner, then you might expect chilly winds.  I would say the same is true sailing Sweden's archipelago which covers miles of off-shore island-hopping and low waterline rock-dodging.
Only a very skilled and locally-knowledgable skipper would dare to venture into this dramatic environment of Swedish red homesteads, granite moonscapes and kilometers of sailing in calm, flat waters.  Brackish water (a mix of fresh and salt water) creates the calmness that makes Sweden's archipelago such a fabulous sailing destination.
OUR ICHIBAN ITINERARY
SALTSJOBADEN
We boarding at 5:30PM and were immediately welcomed by the traditional "fika" which means "a gathering of friends over sweets or sandwiches and served with coffee and tea."
Our yacht was impeccably-equipped for this early spring sailing adventure. Even foul weather attire was aboard which we employed for every one of our exhilarating days at sea!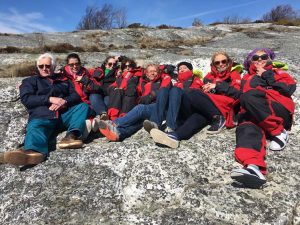 We eight fortunate yacht brokers met our crew, Janne and Kerstin, at the dockage in Stockholm. 
We'd all flown in from different countries – France, England, USA, Canada, Denmark and Vienna – and were all excited to experience Sweden. We weary-but-eager travelers chose our cabins and unloaded our gear.  
CABIN COMFORT  
Since the Ichiban has all single berths, we chose our cabins easily. Forward and aft cabins were the more spacious. The midship upper/lower was perfect for me and my yachtmate, Elisabeth, who is a tad smaller than my 5'9″ frame.  We even had our own private head and wet head bathroom (toilet and shower).  
Our other mates had another midship upper/lower berth.  This cabin, we all agreed, would best suit the under-25 set.  The forward and midships shared a wet head bathroom with the crew.
The aft cabin had a private head and wet head bathroom.  
Since it was a bit like camping out with eight guests, we all concurred that the most comfortable would be 4-6 adults or a family of 8.

Monday, DAY 1 – NAPOLEON BAY
Boarding at 5:30PM, we were immediately welcomed again by a traditional "fika".
Since the sun sets at 10:00PM, getting underway was not a hurried affair. We dropped anchor in the seclusion of the pine-lined Napoleon Bay.
It was so calm due to the brackish waters, that we were not rocked by any motion and all slept well before beginning our adventure.
Unexpectedly, we found ourselves sailing in snow in Sweden's Archipelago – how lucky we were!! We laughed and were all secretly amazed at the competence of our Viking Captain Janne.
Tuesday, DAY 2 – STORA NASSA or GREATER ARCHIPELAGO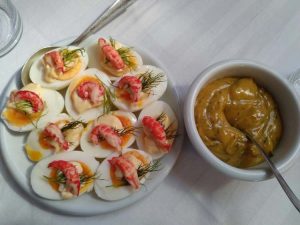 We sailed into this well-protected maze of uninhabited boulders. In summertime, the Ichiban team will create a picnic for guests.  
Temps were chilly and no one put on their t-shirts or shorts. This is not southern Europe (from which many of us arrived, including Greece and Barcelona only a week prior). Oh well, "Let the adventure begin!" I shouted.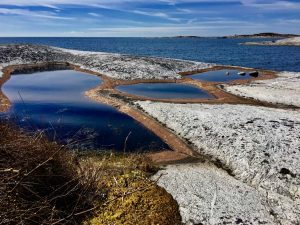 SAILING WITH A PRO: That evening, we cruised into a maze of granite up-cropping boulder formations and skillfully tied up to a rock!  Port two, the fenders were lowered, lines were securely fastened around boulders and trees.  Never had we experienced this – but Janne was the coolest and calmest instructor.  Two of our mates leaped off the Ichiban and were guided to tie up for the night!
Another evening of ducking the chilly winds and sleeping motionless under an almost full moon.
In the morning we mingled with the herd of sheep trying to dodge our cameras and just took in the enormous expanse of this far-reaching archipelago. 
FOOD & BEVERAGES:  Every breakfast started out with an array of homemade breads and muffins. There is nothing like smelling baking and cooking in the galley when you are all on deck. Kerstin made magic of her Swedish traditional cheeses, meats, hard and soft boiled eggs, plus strong coffee and assorted teas.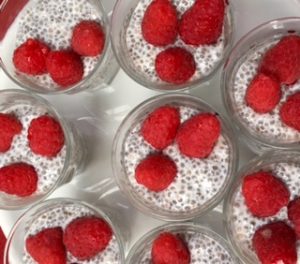 I must mention here that Kerstin customized every meal on the Ichiban since I'm allergic to fish (I had to pass on the Norwegian salmon and pickled herring) and one mate was gluten-free.
You can read our entire week's customized menu in my blog post New Nordic Cuisine on Board the ICHIBAN: Top Yacht Chef Brings Innovation to Traditional Swedish Food.
After yet another hearty breakfast (raspberries on chia here), we set sail south with a following wind.
Everyone took a turn at the helm, which is a definite plus to us sailors. A responsive helm, this Swan glides through the water effortlessly.
Nigel (our token male broker and humorist), made one comment: "My god, he turns off the engine then he puts up the sails!"  This says it all about the skilled and competent Captain Janne.
Wednesday, DAY 3 – SANDHAMN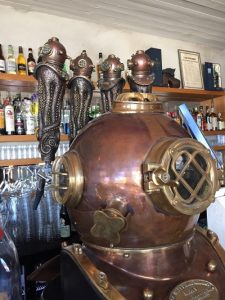 That evening we settled into a dock for the night.  Note: Overnight dockage prices are comparable to St. Bart's and Nantucket's in the high season.  
Sandhamn was charming, but very few folks live there at this time of year. The hotel was busy with company groups (ferries run frequently and year-round to many of these islands from Stockholm), so we proceeded to explore and ended up in a pub with beer on tap from a Boston company called Diver Helmet and yes, that helmet on the right is a beer tap!
Every night we chatted about the day we just had and the day ahead.  
When sailing Sweden's archipelago, itineraries are always based on the winds and comfort level for guests. Hearty sailors are always welcome. Kerstin served plated evening dinners with traditional flare and paired wine with each meal. She is a chef with full command of her galley!
Thursday, DAY 4 – QUIET ANCHORAGE = Fjärdlång
After a few yoga poses on the dock, we set sail under brilliant blue skies, heading to the farthest point of the archipelago where "we imagined to see Russia!"  
ITINERARIES ABOARD ICHIBAN:   Best to mention here that, should you want to visit Estonia or St. Petersburg, Russia, please inquire! Captain Janne and Kerstin have sailed northern Norway, southern Sweden, Gothenburg = Göteborg and all of the archipelago with 50% repeat clientele!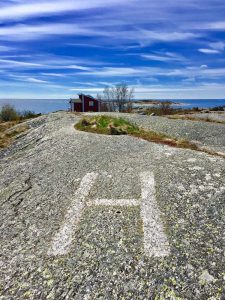 One seasoned guest in her 80's flew in by helicopter and met Ichiban to sail for 14 days! (That rock with the "H" on the left is a helicopter pad.) 
It's note worthy that Captain Janne (pronounced YAHN-neh) is very safety-conscious about transferring people on and off the Ichiban. Also, the boat is equipped with a defibrillator and the capacity to summon medical help and a helicopter for airlifting. Clients range from teens to 85-year olds so the crew is prepared for a broad age range and health circumstances.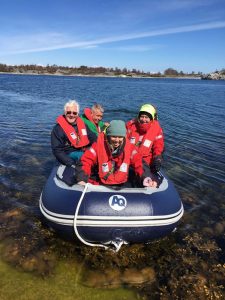 Welcome to HUVUDSKAR! Moonwalking on granite and quartz, we arrived by dinghy (maximum 6 guests) and beached up on the smooth shoreline.  A small enclave of traditional red summer homes were waiting for the summer guests to arrive.  Since no one was there, we freely roamed and explored.  The iconic lighthouse gave my Maine mate and me a sense of Pemaquid.
What does Thursday mean to the Swedes?  Our late lunch was "pea soup and pancakes" (really, they were crepes unlike our fat ones in America) and served as a dessert with local Northern berry jams.  If you ask any Swede, they will know the traditional meal before the fasting Catholic Fridays.
While overnight at the dock, once again, Kerstin made magic from the galley for another delicious evening meal. 
Friday, DAY 5 – KORPMAREN, HARSO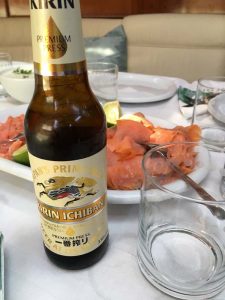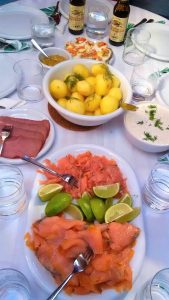 After breakfast and showering on shore (what a treat), we set sail in the morning with winds picking up for a leisurely sail to our last beautiful anchorage.
Eventually, we arrived in Korpmaren, a popular rendezvous weekender getaway for the sailing crowd. Believe me, there are more sailboats (or so it seemed) in this archipelago than the ubiquitous motor yachts in the Western and Eastern Med.
Since the sunset was so stunning, we sat out on the aft table with our Ichiban beers and appetizers, relishing our unique bond over the Swedish spring weather.
On our last night together, our final meal consisted again of traditional Swedish foods, merriment and toasts to our lovely and amazing Captain Janne and our talented Kerstin and the fair wind gods of Sweden.
Saturday, DAY 6 – Stockholm
Finally, we put the sails and headed back to Stockholm harbor.  It will be a long time before I forget the scene of this historic and colorful harbor.
We can create an adventure for you.
Our time on the Ichiban was fantastic yacht living. I like to say, "Yachting is cool," and in Sweden, it is super-cool. I can recommend it whole-heartedly for all sorts of sailors and adventurers. So maties, if you want to learn more about the S/Y Ichiban and sailing Sweden's archipelago with Capt. Janne and Top Yacht Chef Kerstin, just inquire here.
Carol Kent Yacht Charters is happy to plan an adventure for you!