New Nordic Cuisine on Board the ICHIBAN: Top Yacht Chef Brings Innovation to Traditional Swedish Food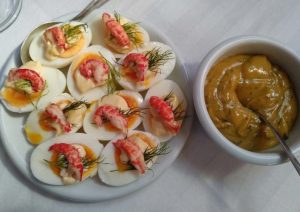 On her Sail Yacht ICHIBAN, top yacht chef Kerstin Malmström brings innovation to traditional Swedish food for a type of "New Nordic Cuisine." Eight fortunate charter professionals sailing out of Stockholm got a taste of unexpected gastronomic delights that we thought could only be made by magic in ICHIBAN's galley.
Besides being a culinary innovator, Kerstin joins her husband, ship's Captain Janne Malmström, to bring fresh exciting Swedish dishes to guests aboard. Think toast Skagen with prawns, mayonnaise, beetroot and dill. Yum.
It's worth noting here that Sweden is making waves in more than just their archipelago. "New Nordic Cuisine" is gaining notoriety in the world of gastronomy with new takes on their traditional high protein-low carbohydrate dishes.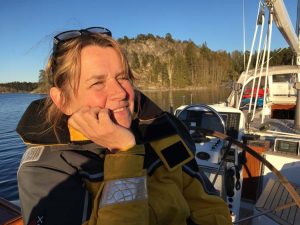 During our beautiful week-long sailing tour (see our post Sailing Sweden's Archipelago in the Baltic Sea on the S/Y Ichiban), Kerstin also gave us a culinary tour of traditional Swedish food with as many twists and turns as the land around which we were sailing! While each meal was enhanced by the string of gorgeous harbors where we dined, Kerstin (left) would not be outdone by the scenery. She perfectly paired out wines, local drinks and spirits to dazzle our palates.
I requested that she write down every meal since great food is one of the highlights of being on a yacht vacation.
Menus on the ICHIBAN are customized to meet travelers' needs. We had one gluten-free guest and, ironically, I'm allergic to fish! Kerstin managed all our wishes and restrictions with creativity and care so everyone had a taste of the magic she produced in her small galley.
Here is our week of innovative Swedish dishes:
Mondag 8 th   Night harbour: Napoleonviken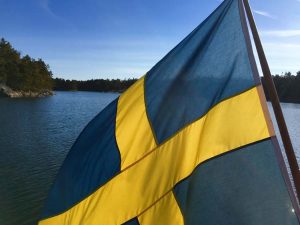 Dinner:
starter: Potato cakes with roe
main course: Cod in a tomato sauce with olives
dessert: ice-cream served in an almond basket
Tuesdag 9th
Lunch harbor: Kargrundet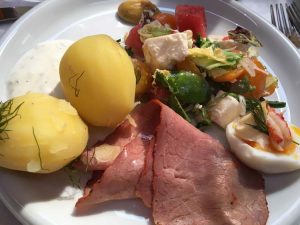 Lunch: Lobster casserole with salmon and prawns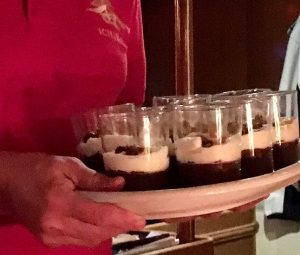 Night harbour: Stora Nassa
Dinner:
starter: chanterelle toast
maincourse: Chicken with vermouth sauce
dessert: Brownie with whipped cream and strawberry <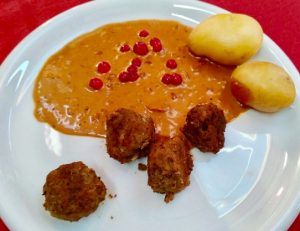 Wednesday 10th
Lunch harbor: Sandhamn
Lunch: moose meatballs with lingonberry sauce >
Night harbour: Sandhamn
Dinner:
maincourse: summer buffé with herring, cheese pie, lamb sausages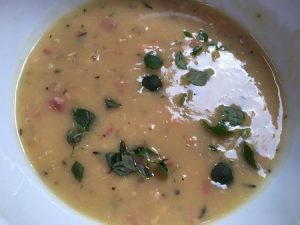 Thursday 11th
Lunch harbor: Byttan
Lunch: pea soup with warm "punsh", pancakes with cloudberry- and strawberry jam <
Night harbour:  Fjärdlång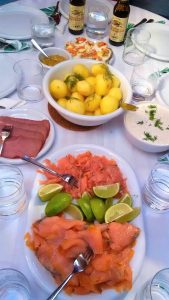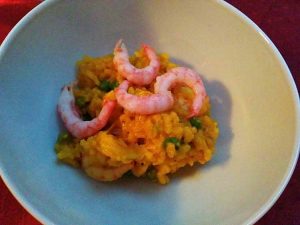 Dinner:
starter: Boueff Rydberg, filé with fried potatoes, onion and yolk.
main course: risotto with saffron and prawns <
dessert: crème brulée with rhubarb at the bottom
Friday 12th
Lunch harbor: Huvudskär
Lunch: smoked and "gravad" salmon, mustard sauce, lemon sauce >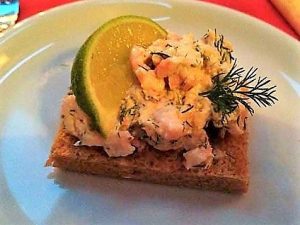 Night harbour: Härsö
Dinner:
starter: toast Skagen with prawns, mayonnaise, beetroot and dill <
main course: deer with potato cake and red wine gravy.
dessert: chocolate cream with orange cream and almond crunch
So maties, we did some fantastic customized – or bespoke (gotta keep up with trending vernacular) -sailing and eating on the Sail Yacht Ichiban. We learned some new Swedish words, ate some new Swedish food and decided that New Nordic Cuisine is a trend we love following.
To learn more about sailing in Sweden, yacht living, chartering boats, eating like a gourmet and how you can have a customized adventure, contact Carol Kent Yacht Charters today!