Need an Exciting Venue for Entertaining Clients? Charter Your Own Tall Ship for Historic Week!
TREE OF LIFE Has the Best Seats in the House for Your Clients, Employees & Friends at the Boston Tall Ship Week 2017
 Ahoy, everyone, from Carol Kent Yacht Charters! Tall Ship week in Boston June 16­-22, 2017!
For the first time since 2000, the full fleet of Tall Ship by definition: large, classic, sailing vessels also technically defined term by Sail Training International will sail into Boston! Since 7 million people attended that event, we want to be sure that Boston Tall Ships 2017 is on your radar.
Entertain your clients, employees and friends on your own beautiful private yacht June 14­-22 and sail with these classic sailing vessels in Boston's Grand Parade of Sail on June 17!
Don't spectate. Participate!
Why stand in cramped crowds on the banks or on packed harbor cruise vessels? Charter your own Tall Ship for your employees or clients, the 91-­foot S/Y TREE OF LIFE!
~~~~~~~~~~~~~~~~~~~~~~~~~~~~~~~
THIS PACKAGE DEAL (June 14­-22) INCLUDES: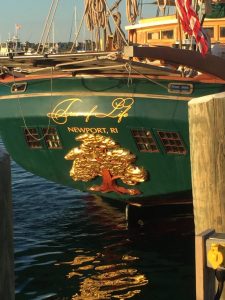 1. Choose to cruise from Newport to Boston, June 14-­16, for up to 4 guests in 2 cabins. Family fun experience optional.
2. Sail on the 91-­foot Schooner TREE OF LIFE in the Grand Parade of Sail, June 17, 9am­-3pm.
3. Dockside entertaining (June 16­-22) at Boston's Fan Pier (great location) for up to 30 guests any time of day.
4. 12 guests maximum for day sailing.
5. A chance to participate in handling the lines or just sit back and relax.
Pricing
For $30,000 you get 9 days and 8 nights (June 14-­22) including dockage and 10 crew at your service. Additional expenses are food, beverages and crew gratuity.
Chartering this classic schooner is a spectacular way to see the historic Tall Ships sailing into Boston Harbor. Currently, there will be more than 46 participants sailing in the Parade of Sail.
The Schooner TREE OF LIFE, Captain Paul Morse and her 10 crew will be perfectly positioned all week at the accessible Fan Pier in downtown Boston.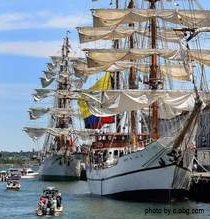 Carol Kent Yacht Charters will coordinate all the details to suit your exciting week.
Don't miss this rare opportunity. Consider being a corporate sponsor.
"There is something special and energetically powerful aboard TREE OF LIFE," says Capt. Morse. "All who sail on her feel this as she moves smoothly through the sea utilizing only the wind and the traditional techniques that have been used for hundreds of years."
Contact us today!
Corporate Planners | Travel Professionals | Families, Couples & Friends
                     
+1 781.631.1800   vacation@carolkent.com   www.carolkent.com