Yacht charter shows are always composed with a food and beverage focus. Chef Competitions allow passionate chefs to shine. The Newport Charter Yacht Show focused on chef talent and creativity. 
Why? It is one of the many reasons that make for a successful charter. Trained professionally or home-schooled in the kitchen, the functional galley allows creativity where flavors flow.
Top photo, Luxurious dining room on 164ft M/Y TCB. Photo by Carol Kent
Top Three Chefs Featured Here
Seven talented yacht chefs kicked off the Newport Charter Yacht Show Chef competition on June 21, 2022 with their take on the "Luxurious Comfort" theme.
In an excellent article by Laura Shaughnessy of Dockwalk, she explains that each chef created two versions of the same entry — one for an adult palate and the other for a child's palate while the judges based their decisions on taste (40%), presentation (30%), and creativity and originality (10%), while the use of ingredients provided accounted for 10%.
Plus, chefs had to incorporate a special dietary requirement (5%) and give a table presentation about their choices (5%) according to the article.
First Place: Pickled Items had Amazing Versatility
Chef Alex Flannery 164-foot M/Y TCB of the won the hearts and stomachs of the three judges.
Making up his Taco Tuesday (adult) entry was beef cheek with chipotle roasted artichoke and corn, sweet potato chips, osetra caviar, and pine cream, Shaughnessy notes. The children's entry was a halibut cheek with razor clam ceviche, pickled cauliflower and rhubarb, melon, and pine cream. He went with the gluten-free dietary restriction.
The judges picked out his pickled items as one of the reasons they dubbed him the winner. As for his take on why he won, Chef Flannery told Dockwalk that he thought it helped that he had quite a few different components that showed versatility. For his creation, he made the shells, braised the meat, and pickled some items.
Chef Flannery took home a $100 gift certificate from Helly Hansen, a Cutco knife, a cutting board, and Gosling Rum.
"My beginning inspiration was that it was Tuesday," Chef Flannery says in the article. "I really like tacos, so I had to throw that down, but I was also thinking of endless comfort and luxury, so comfort food and making comfort food luxurious. To me, tacos were perfect because it fell into that day and it's a comforting ingredient that you can step up and make nice," he says, adding, "It was a wonderful competition and I'm glad I was able to put something together that everybody liked. It was really fun."
Second Place: Cheffy Stephy's Jam
Chef Steph Sykora of 93-ft M/Y FREEDOM took second place with her Southern Low Country take on fish and grits according to the article.
"Cheffy Stephy" clearly wowed the judges who commented that her rhubarb jam on the kid's plate was "the best thing ever" and that she "nailed the Luxurious Comfort theme." She took home a cutting board, rum, and a wine glass for her second-place winnings.
FREEDOM is a 2021 Horizon built motor yacht with one on-deck master bedroom and four guest state rooms.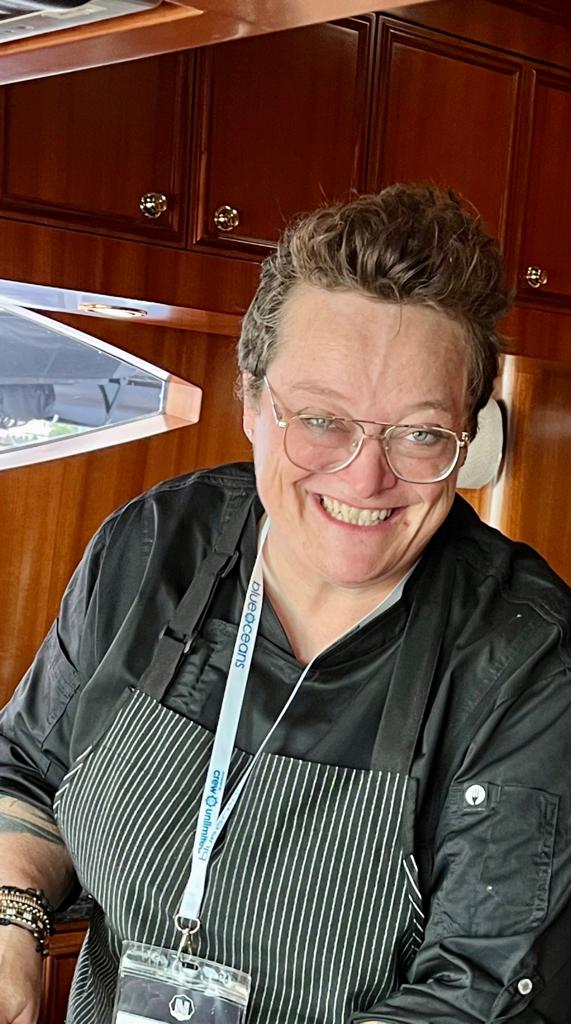 Third Place: Fun and Flair Were Memorable
Chef Brittany Garcia of M/Y QTR impressed the judges with her Bolivian Tamales and Alfredo Tacos for the kids, according to the article.
Due to her table side presentation — where she smoked her dish with the spruce tips — which was peppered with personal stories that inspired her dishes, the three judges praised her for the fun and flair that made it memorable. Her prizes were a cutting board, rum, and wine glass.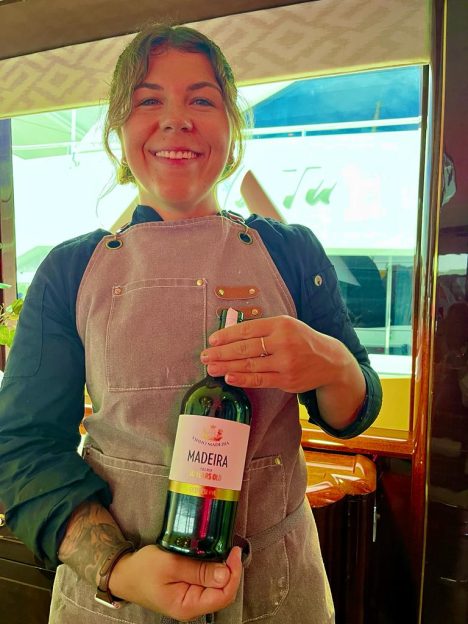 Video Tour of 164-foot M/Y TCB
While Carol was at the Newport Charter Yacht Show she took the opportunity to get to know the yachts better. Here is a short video of the motor yacht TCB by Carol Kent herself.
TCB accommodates 12 guests in five cabins serviced by nine crew. (Contact us for more information).
Keep current! Catch up with us online! 
FACEBOOK:  https://www.facebook.com/CarolKentYachtCharters/
TWITTER: https://twitter.com/ckyachtcharters
YOUTUBE CHANNEL: https://www.youtube.com/c/CarolKentYachtChartersMarblehead/videos
INSTAGRAM: https://www.instagram.com/carolkentyachtcharters/
                                                                           

It's smarter to charter.
Start browsing for your dream yacht charter here.
You can reach out to us on our Contact Us page. Already have dates in mind? 
Let's make a plan.
Email us vacation@carolkent.com
Calling us works, too! +1 781 631 1800