With extreme weather and storms of increasing intensity reported around the world, you may have some questions about chartering a yacht during hurricane season.
We send people around the world every day, and we strongly believe that a safe traveler is a well-informed traveler.
We provide the best information for our yacht charter clients and that includes knowing all the precautions they can take to meet the unforeseen consequences of "Force Majeure".
What does "Force Majeure" mean?
It's a French term literally translated as "greater force". A Force Majeure clause is included in contracts to remove liability for natural and unavoidable catastrophes that interrupt the expected course of events and restrict participants from fulfilling obligations.
So, what questions should you be asking about charter yacht travel during hurricane season? Start with these:
1) Is it worth the risk to plan a getaway to the Caribbean, Bahamas, or the Spanish Virgin Islands in Puerto Rico during hurricane season? Even in New England, during August and September, we advise travel protection.
2) Can I travel in The Caribbean during hurricane season? Yes. The Grenadines in the Lower Caribbean offer a low risk option for travel in that area. Read more under our Travel Tips below.
3) How do I safeguard my trip from interruptions? Be flexible and insure your trip whenever possible.
4) When is hurricane season? The full hurricane season is June 1- November 30 for the Atlantic and the Caribbean, and the Eastern Pacific hurricane season starts May 15. The peak months for hurricanes in the Atlantic, Caribbean and Pacific are August through early-October. The peak months for hurricanes in the southern hemisphere (Australia, New Zealand, and Hawaii) are March and April. 
Remember September
September and October are superb travel times for many other destinations (not in the hurricane path).  Airfares drop. Crowds wane. Kiddies are back in school. And the winds and water are perfect for cruising!
Also, yachts often offer deep discounts from 5-25% off normal prices! We keep a running selection of yacht charter discounts and unusual availability on our Specials pages.
In North America and South America
We suggest the Caribbean's WINDWARD ISLANDS, The GALAPAGOS and ALASKA.
Head for the Med
Lots of desirable yacht destinations are outside of the hurricane belt. The Eastern and Western Mediterranean are high on my list. Let us help you dream a little with some itineraries from our visits to The Med.
Lower Caribbean
The lower Caribbean is below the belt – the hurricane belt, that is. Boats in the upper Caribbean will often re-position themselves to the WINDWARD ISLANDS from St. Lucia to the Grenadines if they want to extend their season. Alternatively, some yachts will not charter during this time period at all and use the time for maintenance.
Some of the best places for traveling without hurricanes are St. Lucia, St. Vincent to Grenada. The winds are perfect for summer and fall cruising. Learn more on the Windward island destinations for great sailing.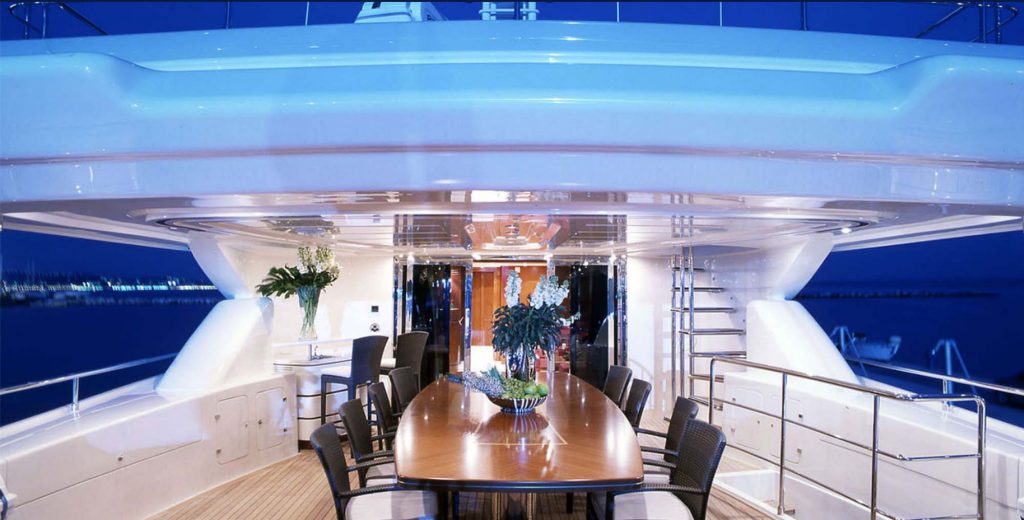 The M/Y SIMA – aft deck dining room pictured here – is a great example of a deeply discounted yacht charter. Click HERE or on the photo to see all our yacht charter Specials
Be flexible.
Look for great yacht charter deals on trips you could take later if a hurricane or other disturbance occurs.

Stay flexible about your travel plans and plan extra time – you may have to make changes during your trip or even reschedule your trip entirely.

Consider storm-related situations you may encounter in getting to or from your destination (full ferries, washed out roads, traffic delays) and give yourself extra time.
Be sensible.
Thanks to today's weather-tracking technology, odds are slim that you'll be caught in a hurricane. That said, we recommend that you avoid making a hurricane-prone destination a critical piece of your adventure, e.g. a destination wedding in August in Key West, Florida.
Hurricane season is technically June 1-November 30. The busiest part of hurricane season varies from region to region. In the Eastern Caribbean and along the U.S. East Coast, the season is usually busiest from mid-August to mid-September. In the Western Caribbean, hurricanes pick up from mid-September into early November.
Be reassured.
Your Captain and crew are always concerned about your safety first and the yacht investment second.  We are always in communication with you and your crew to determine the best outcome for a successful yacht charter vacation.
Like Boy and Girl Scouts, be optimistic and be prepared.
Great yacht charter deals are often worth the risk especially when you protect your trip with travel insurance. Read further on 10 Reasons to Insure Your Yacht Vacation. You may purchase travel insurance up until the day before you travel.
I like Travel Guard trip insurance because they are thorough and thoughtful in their coverage of yacht charter cancellations for named hurricanes.
Here's an example of a notice that the insurance company Travel Guard issued:
" COVERAGE INFORMATION:

• Please note that Tropical Storm Dorian became a named hurricane on Wednesday, August 28, 2019. For coverage to apply, the policy must have been purchased on or before Tuesday, August 27, 2019. Please encourage your clients to read their Insurance Policy to verify if coverage would apply for Natural Disaster or Hurricanes."
Additionally, Carol Kent Yacht Charters offers a Hurricane Addendum for our New England and Caribbean yacht charters so that our clients don't lose their money when Mother Nature offers up unexpected plans and boats have to cancel trips.
Travelers opt for the Hurricane Addendum when they first book so they are able to "reschedule" within the year with a mutually-agreed upon date.  With this addendum signed by both charterer and owner, the protection kicks in only when it is a "named storm".