Croatia is a hot destination for land and sea vacations. September news from internet website teflSearch states, "Croatia is the most desirable destination in the world according to data analysis.  2016 has had the best tourist season in Croatia's history.  [This year] until the beginning of September Croatian destinations reached more than 80 million overnight stays, which exceeded the number of overnight stays during the entire last year."
This week, I traveled the coast and cities of Croatia with a friend who is an expert guide.  Nena Komarica, Art Historian of Culture and Tourism, formally led the National Tourst Board in NYC, and is now an independent consultant.  When I first met her 10 years ago at a travel trade show in Chicago, I was beginning to send my clients to this Adriatic Sea region; Nena was an integral component in my education.  This trip, Nena has invited me and a select group of travel professionals who specialize in Croatia to join her for a week of adventure.
Our trip began in Zagreb, so I invite you to follow my journey in the Kvarner region to the Island of Losinj, surrounded by bays, port towns and islands.
Join me in on Facebook as I update this luxury destination during my stay at the *****Five Star Hotel Bellevue.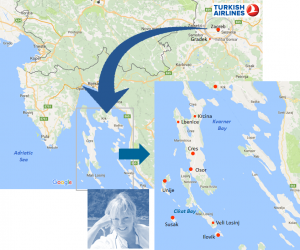 This trip begins in Zagreb and continues to nearby coastal islands, offering a thrill for history, art and culinary enthusiasts. Unlike hip Split, Zagreb has some very unique features to offer.  Zagreb is the largest city of the Republic of Croatia and gained its independence from Yugoslavia in 1991.  In this itinerary, you can spend several days and nights walking Zagreb's Upper Town centers and Kaptol Square, with most buildings dating from the 17th century.  Be sure to visit the Upper Town museums, especially the City Museum housed in the 17th-century Convent of St. Clair (museum of Zagreb history).
Our ITINERARY (we can book this for you too)
Depart from Boston on Turkish Air direct to Istanbul, then on to Zagreb, Croatia.

September 26, Monday
Arrived in Zagreb where my colleague Kathy Kurtubes stayed one night in center of the city.  This being off "our time" after flying 9 hours across 6 time zones, we walked the beautiful streets of the city until 1AM.
September 27, Tuesday
Arrived by private van into Mali Losinj.  Hotel Bellevue staff greeted us with local flavored water and cool towels.  Walking into the expansive lobby, our eyes were drawn to the Cikat Bay ahead.  Hotel Bellevue is hidden in a wonderful setting among the treetops of the centuries-old pine trees, whose fragrance helped ease us into a relaxed mood.
White glove service. A select pairing of Croatian wines.  We dined by candlelight under the mild evening's starlit skies at Bellevue Restaurant.  The rooftops are utilized for growing fresh herbs.  It was, as promised, a five-star dining experience.
September 28, Wednesday 
After breakfast, depart for Cres. Visit herbs distillery Martinscica, enjoy sightseeing of Valun and picturesque Lubenice with beautiful panoramic views. See Kvarner bay and its islands; stop en route for lunch at tavern Hibernicia to enjoy lamb, a local specialty, raised on the island.  We had an outstanding day seeing the panoramic views of these villages by the sea.
We then proceed to Osor to enjoy two islands, Cres and Losinj, and tour a historic  excavation site.  Osor was the biggest surprise.  This once-thriving and important city to commerce, religious and political presence in this region, is now a sleepy, scenic village filled with art, historic statuary and only 9 inhabitants.  Summer time offers music in the square.  An important Archeological Museum features artifacts found in this area.
Dinner at the Bava restaurant by the sea (local lamb from Istria, Croatian wines), enjoying the island's warm hospitality.
September 29, Thursday
After breakfast at  9:30 AM, we inspected our 5-star Bellevue Hotel's noted spa & wellness center. which won Spa Finder's award for Best World Spa in 2015.  Explore more beautiful new hotels and villas in Cikat Bay, including boutique hotel Alhambra, member of Small Luxury hotels of the World, as well as Villa Augusta and Hortensia, both 5-star deluxe properties
**Experience a sailing tour from Cikat Bay to nearby islands of Ilovik, Unije or Susak, for lunch in a local island restaurant.
Late afternoon leisure; time for spa treatments! Dinner on our own; we chose restaurant Bava.
September 30, Friday  
Enjoy breakfast served in restaurant Bava
10:00 AM visit to Vitality Hotel Punta 4* in Veli Lošinj. Presentation of vitality zone, stop at Blue World Center. Proceed to Wellness Hotel Aurora 4* and Family Hotel Vespera located in Sunny Bay of Cikat; visit Laurus Slow spa which has recently been listed by Premier Traveler as one of the top ten spas in the world.
Light lunch at restaurant Borik.  Our afternoon will be leisurely, enjoying the treatments at Spa Clinic Bellevue.
Dinner at restaurant Veli Zal or similar.
October 1, Saturday 
After breakfast, 10 AM city tour, experiencing the Towns of Mali Losinj and Veli Losinj with a visit to the Garden of Fine Scents to try traditional herb brandy and teas.
Free time to relax and refresh yourself at spa clinic
Dinner at elegant restaurant Alfred Keller, Alhambra hosted by Losinj Hotels and Villas representatives
October 2, Sunday  
After breakfast, check out from the Bellevue Hotel
9:00 AM transfer to Zagreb via Cres and Krk islands
Afternoon city tour of Zagreb, Croatia's capital, one of Europe's best kept secrets. Tour starts from Zagreb's main Ban Jelačić  Square and continues with the visit of two historic parts of old town, Kaptol and Gradec. On Kaptol we will visit the biggest Cathedral in Croatia. Our journey takes us to Gradec, better known as Zagreb's Upper Town, entering Gradec through a medieval Stone Gate.
We will have a chance to see the seat of the country's administration, the Parliament and Government Buildings, as well as St. Mark's Church, whose colored roof is the symbol of Zagreb. Our walk continues to Lotrščak tower and ends at Ban Jelačić Square. There is an option to use Zagreb's Funicular (cable railroad), one of the shortest in Europe.
After sightseeing, farewell dinner in traditional Croatian restaurant centrally located, then transfer to hotel for overnight.
October 3, Monday  
After breakfast departure, transfer to Zagreb Airport, then back to Boston/US East Coast.