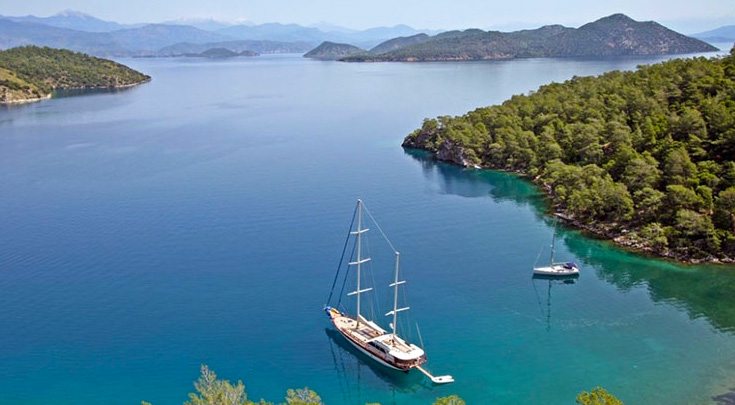 Trip Advisor's list of Best of the Best Destinations in 2022 is out and 5 of the top 10 are superb yachting destinations!  With a twist toward yachting, all 10 of these can easily be accessed for an unforgettable yacht charter vacation.
#1 Mallorca, Spain
Chartering in the Balearics is gaining so much attention since most of the area's yachts are based in Palma, Mallorca (pictured above).  Summer 2024 will be exciting for yachting when the 37th America's Cup comes to Barcelona.
We encourage early bookings to get your ideal yacht charter (a.k.a. floating hotel) and the best seats in the house.
Consider a Destination Wedding or a Corporate Event
Jackie O was here! 325′ CHRISTINA O is ideal for up to 34 guests with 38 crew.  Dockside events for up to 250 guests. 
236′ SERENITY accommodates up to 28 guests overnight with 30 crew.  Dockside events for up to 100 guests. 
For chartering up to 8 guests out of Palma, Mallorca, 84′ Motor Yacht RUSH X is a great choice for 4 couples.  
---
#2  Cairo, Egypt
Cairo remains one of the ancient wonders of the world, where the pyramids can be seen along the Nile.
Take a local "felucca" wooden traditional sailing boat trip while in Luxor.  To get to your yacht, a 55-minute flight from Cairo to Hurghada International Airport brings you to The Red Sea, which is world known for its underwater life.  Board your yacht in Hurghada port for the ultimate world-class dive journey. Cruise toward the Southern Sinai area, anchor at Tiran Island, and continue to the Ras Mohamed National Park.  Enter into the Gulf of Aqaba where Sharm el-Sheik is known for a wide range of fine dining and esteemed nightlife.
The most pleasant time for chartering is in the months of October to April.  *Please inquire
---
#3Rhodes, Greece
Home to another 7th wonder of the ancient world: the Colossus of Rhodes. Only a one-hour flight from Athens, Rhodes is a great port at which to begin your charter.
The other suggested itinerary would be to begin in Mykonos and experience the less touristy Docecones group of islands.  The itinerary starts in Mykonos and ends in Rhodes.
65′ Motor Yacht MARY is based in Rhodes and is ideal boarding for a customized itinerary into history. 
61′ Sail Catamaran ALLURE is 2022 for up to 10 guests with 3 crew.  Her Master cabin has direct access to the aft deck.
---
#4Tulum, Mexico
The best yacht chartering in Mexico's Yucatán Peninsula begins in Cancun. It is only a 2-hour drive up the coast to board your yacht and discover the heart of the Caribbean. 
Currently, in Cancun, this 76′ Lagoon THUNDERBOLT accommodates up to 6 guests with 4 crew. Her large master stateroom is like a private beach overlooking the sea, providing direct access to the water and a unique view of the horizon. 
---
#5 Dubrovnik, Croatia
Split to Dubrovnik: sail one-way or reverse your course along the Dalmation Coast along the Adriatic Sea, still one of yachting's most popular cruising areas.   
A motor sailer with sailing power, 114′ SAN LIMI accommodates up to 8 guests with 5 crew.  She has added a new deck jacuzzi. 
127′ Motor Yacht OTTAWA is based in Dubrovnik, taking up to 12 guests and with 7 crew.  
---
 #6 Ibiza, Spain
Party central and also a great port to jump off of on your yacht and cruise to Formentera, Menorca, and Mallorca.
73′ Motor Yacht LEGENDARY is based in Marina Ibiza, in the marina's most exclusive section, next to the famous Lio restaurant.  She accommodates up to 7 guests with 3 crew.  Available for short-term and weekly charters.  
---
#7 Natal, Brazil
Located on the water on the Northern tip of Brazil, the best features are the beaches.
---
#8 Arusha, Tanzania
Inland with Madagascar a 3-hour flight away, Expedition yachts and sailing yachts are most popular here.
---
#9 Göreme, Turkey
Do combine your sailing off the Turkish Coast of Bodrum, Marmaris, and Gocek. The flight from Dalaman Airport to Goreme is approximately 4 hours and is worth the trip. Cappadocia cannot be missed on this trip. 
Based in Bodrum, 98′ Gulet (Motorsail) BLUE HEAVEN is a value for families with its 5 cabins and 5 crew. 
101′ Motor Yacht ARCHSEA is an excellent choice for guests who love elegance and comfort.
---
#10 Santorini, Greece
There is a reason one needs to see this island with its caldera and amazing views. A bit touristy now, but travelers can make a one-way charter starting in Athens and end in Santorini for a 3-4 day stay. I recommend May, June, or September to avoid crowds.
92′ Motor Yacht WISH would get you to Santorini for those picture-perfect glorious sunsets.  She sleeps 10 guests, 4 cabins with 4 crew. 
For 6 guests, this 54′ Power Catamaran (2022) TIAMO provides great space and speed.
---
---
It's smarter to charter.
Feel free to browse for your dream yacht charter here.
---
You can reach out to us on our Contact Us page.
Already have dates in mind? Let's make a plan.
Email us vacation@carolkent.com
Calling us works, too! +1 781 631 1800